Could an integrated marketing expert in D.C. positively impact your business?
Call in a consultant to help guide your marketing strategies and build your brand
At TorchLight, a marketing and communications search and staffing firm, we understand the challenges and demands our clients face, including the need to deliver a consistent brand message. If your DC-area company could benefit from an integrated marketing consultant, TorchLight can help.
In recent years, there has been a shift in how companies approach marketing and communications, with an increased interest in integrated marketing efforts. Organizations today are forced to look at the whole picture and create effective marketing programs to maximize their ROI. To be successful, your business needs an integrated marketing advisor with the knowledge and experience to reinforce your message across both traditional and digital marketing outlets.
TorchLight has connections to the most skilled marketing and communications professionals in Northern Virginia, Maryland and the surrounding Washington area. Our clients rely on our network when searching for a DC-based marketing contractor or communications consultant to fill an immediate need or to assist with a special short-term project. With a combined 40 years' experience in the industry, our recruiters know what it takes to make the right match—clients and candidates rave about our great placements.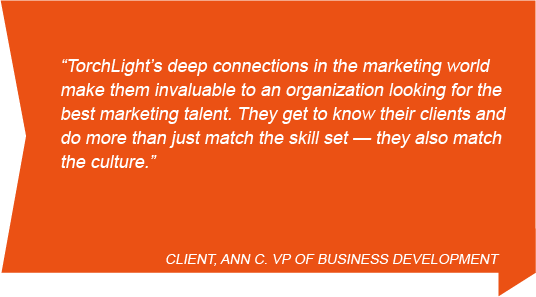 If your organization is looking for an integrated marketing expert in Washington, D.C., or any marketing or communications consultant for that matter, we'd be happy to help you in your search. Contact TorchLight today to learn more about our connections to top talent. And, remember to ask us about our 97% success placement rate. &