Strong Content Spells Success for DC's Leading Companies—Let Us Help You Hire a Highly Skilled Content Marketing Specialist
Alexandria-based TorchLight assists Washington, Northern Virginia and Maryland businesses fill specialized marketing job openings
What you say about your company can inspire consumers to learn more, or to ignore. Don't let your messages go unnoticed—Hire an experienced D.C. content marketing specialist to provide top-notch copy. We can help!
As a marketing and communications search and staffing firm, TorchLight has connections to the superstars in Baltimore, Silver Spring, Bethesda and beyond—Professionals that have the unique skillset to meet the ever-changing marketing demands of leading businesses like yours.
Our recruiters know what it takes to make a great match. With more than 60 years' combined experience, the TorchLight team is committed to ensuring clients find candidates that fit within their organization. We have an extensive search process, which begins with our clients. We then search through our extensive network of job seekers, only presenting the best of the best for an open position.
Here's what one happy hiring manager had to say: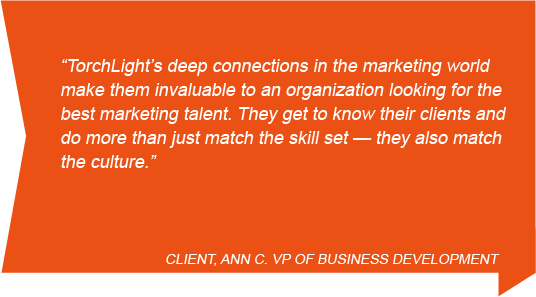 If you're looking to fill a full-time or part-time position, or you have an immediate, temporary need, TorchLight can connect you to highly skilled mid- to senior-level marketing and communications professionals eager to make a difference in your organization.
Want to learn more? Call us today to discover how we can help you with your hiring needs.
&