The most competitive companies win top talent through technology
TorchLight, one of the best marketing and communications search and staffing firms in D.C., is on top of the trend. To help our clients find and hire top marketing professionals, we rely on technology and the latest recruiting tools. Here's why!
Today's on-the-go job seekers are using mobile devices more than ever before. According to a recent Forbes article, 86% of job seekers today are using smart phones to search for jobs. But, surprisingly only 20% of Fortune 500 companies have the technical capabilities to allow for a mobile job search. If your company isn't keeping up with technology, you may be missing out on the most qualified job seekers eager to fill your open positions.
Check out these surprising statistics: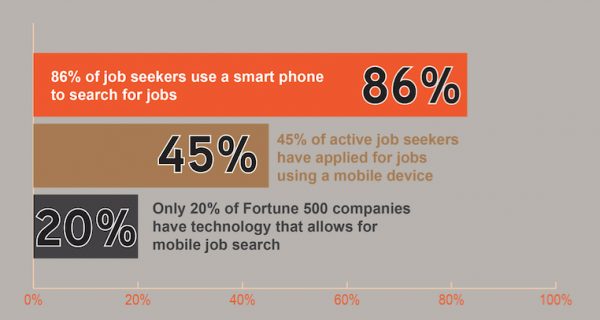 At TorchLight, our recruiters use and are familiar with the latest technologies, including optimized websites and mobile applications that appeal to today's job seekers. We use every technology tool at our disposal to help our clients find and recruit tech savvy professionals and ensure a meaningful match is made every time. Since opening our doors, we have a 97% success placement rate and significant repeat business.
As a trusted partner to Washington, D.C.'s leading businesses, we place mid- to senior-level marketing, communications and PR professionals in a variety of consulting, contract-to-hire and full-time permanent jobs within all industries. Contact us today to learn how we can connect you to the perfect hire quickly and efficiently. &