Need to fill a part-time marketing job in D.C.? Let TorchLight help.
As one of the area's leading marketing and communications search and staffing firms, TorchLight helps clients hire top talent to fill part-time marketing jobs in Washington, D.C.
As a business grows, it's common for marketing teams to be stretched thin. While the workload can be overwhelming, you may not be ready to hire another full-time employee. Let TorchLight help you recruit and hire a quality candidate for your part-time marketing job in D.C.
There is a pool of highly qualified marketing professionals that desire flexibility. At TorchLight, we can connect you to your next marketing superstar—someone with the qualifications and skills you need and that can hit the ground running.
Learn how we can help you fill a void on your marketing team. Contact TorchLight's experienced recruiters today to discuss your hiring needs.
Part-time marketing job seekers: Are you looking for flexibility with a part-time marketing job in D.C.? Check out our list of positions currently available. Or, upload your resume to our database. If a position matches your skills and interests, one of our recruiters will contact you.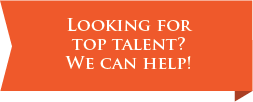 Discover why TorchLight is one of the best search and staff firms to fill part-time marketing jobs in D.C. Call us today! &