Need help filling a D.C. marketing job quickly? Let TorchLight's experienced recruiters help
TorchLight, a leading marketing and communications search and staffing firm in the D.C. metro area, helps companies looking for help finding top marketing talent in Washington, Maryland and Northern Virginia
Demand for experienced mid- and senior-level professionals to fill D.C. marketing jobs is on the rise. To find highly qualified candidates with the skills and expertise you're searching for, you need to know where to look. TorchLight can help.
As one of the best marketing and communications recruiting and staffing firms in Washington, D.C., TorchLight has connections to the area's superstars searching for new opportunities—marketing professionals whose experience can fill in gaps within your team. We also can help connect you with marketing pros with in-demand specialties, including demand gen, social media, digital marketing, PR and more.
>> Check out the range of roles TorchLight recruits.
At TorchLight, we are proud of our 97% success placement rate. We take the time to get to know our clients' needs and only present mid- to senior-level candidates who have the right skills to get the job done and the right personality to fit within the company's culture. Many satisfied clients have found value in our partnership, relying on our recruiters time and time again.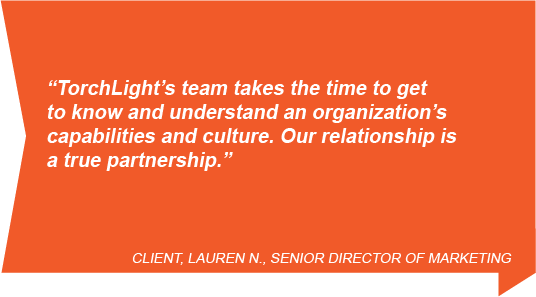 If you are trying to fill your company's open DC marketing jobs, contact us today. We would be happy to discuss how we can assist with your hiring needs. Learn more about TorchLight and how we can help move your company forward. &