What makes TorchLight one of the Washington, D.C. region's leading marketing and communications recruiting firms? Our people.

Meet Heidi
President and CEO
Email Heidi
Connect with Heidi on LinkedIn.
Heidi Parsont started her own firm in order to focus on that which she loves most: matching top talent with the right employer to create a rewarding, long-term relationship. In fact, she built her reputation on it. [wpspoiler name="Read More"]
Prior to founding TorchLight, Heidi worked at Melcrum, an internal communications consulting firm. There, she built a client base that included more than 300 of the Fortune 1000 companies, significantly increasing the company's market penetration for a newly-developed research platform.
As director/vice president with McKinley Marketing Partners, Heidi worked with senior marketing, communications and PR professionals to fill more than 150 positions. Prior to McKinley, Heidi led the sales and client relations team at National Journal Group, an Atlantic Media Company.
Heidi holds a Bachelor of Arts in International Relations from Colgate University and a Master of Business Administration from Georgetown University. She lives in Alexandria, Va., with her husband and two children.
When not herding dust bunnies created from her children's various art projects, Heidi trawls WaPo's real estate section and journeys to open houses throughout the Alexandria area. This way she'll be prepared when the producers of "House Hunters" call to ask her to host a spin-off where TorchLight candidates are also matched with their dream home.
[/wpspoiler]
---

Meet Julie
Chief Culture Officer
Email Julie
Connect with Julie on LinkedIn.
Julie Lowe has a knack for building strong partnerships with both internal and external clients and strategically recruiting for difficult-to-fill positions. Not only can she design and deliver an impeccable customer service program–she's made it a daily practice.
[wpspoiler name="Read More"]Julie began her 20-year career working in the hospitality industry. It was there that Julie found her passion for working with people to build their careers and grow the organization. This passion led her to work with a wide range of employers and clients, including: Oakwood Apartments, Sheraton Hotels, The Cheesecake Factory, Transportation Security Administration (TSA)/Lockheed Martin, U.S. Army and Aegis Defense Services.
Julie holds a Bachelor of Arts in Public Relations/Journalism, with a minor in Psychology, from California State University, Long Beach. In her personal time, you will find Julie in her kitchen baking up a yummy new concoction (her baking skills are legendary in her Alexandria neighborhood), spending time with her family or performing at local establishments with her band, Cognitive Behavior.[/wpspoiler]
---

Meet Heather
Senior Director of Recruiting Operations and Engagement
Email Heather
Connect with Heather on LinkedIn.
Heather Pederson joins TorchLight with over 15 years of experience in global human resources leadership, as well as general program and project management. She is passionate about people—especially collaborative team leadership and engagement. [wpspoiler name="Read More"]
You'll immediately notice Heather's infectious energy which makes her a highly effective facilitator and agent for positive change. As you can image, this also makes her a very fun colleague to have on the team!
Heather has worn many professional hats in her career including recruiter, director of marketing and communications, project manager, and even English language instructor. Most recently, she served as the Senior HR Project Manager for the Red Cross, where she led high-level initiatives in HR change management, personnel training and development, recruiting, and many others. Prior to that, Heather worked at John Deere, where she led a variety of recruiting, process, and project management initiatives—as well as supporting hundreds of international employees around the world.
Heather holds a Bachelor of Business Administration from Western Michigan University, with a marketing major and communications minor. She also has a Master of Management International MBA from the University of Phoenix and is a certified facilitator/trainer in employer diversity and inclusion.
In her personal time, you'll find Heather busting a move in a dance class or pumping iron with her husband and personal trainer. She loves to travel and has been to over 34 countries and volunteered on 3 continents. And when she's not working hard or serving as her teenage daughter's personal Uber, Heather is watching the latest movies, snuggled up on the couch with her family and favorite takeout.[/wpspoiler]
---

Meet Stephanie
Vice President of Business Development and Account Management
Email Stephanie
Connect with Stephanie on LinkedIn.
A trained actress, Stephanie Ranno knows that goosebump-inducing moment when the curtain goes up, the applause begins, and you're standing on stage in the role you were meant for. And, as a veteran of the recruiting industry, she is equally passionate about helping Washington-area professionals experience that same electric energy when the curtain goes up on their new marketing careers working for TorchLight's clients. [wpspoiler name="Read More"]
As Vice President of Business Development and Account Management, Stephanie brings TorchLight's expertise to the enterprise market, developing strategies and relationships to help Fortune 5000 companies operating in the D.C. metro area with their full-time permanent and contract staffing needs. She thrives on helping companies create great teams with great people to meet the dynamic, rapidly changing needs of today's marketing world.
Prior to joining TorchLight, Stephanie spent more than a dozen years in the recruiting and staffing industry, most recently as Managing Director of SHIFT Recruiting and Strategic Account Manager of Profiles, both in Baltimore. She began her career in development and fundraising for two Baltimore nonprofits: Port Discovery – The Children's Museum and Center Stage.
She was recently selected by The Daily Record as one of Maryland's 2017 Leading Women, singled out for her professional experience, community involvement and a commitment to inspiring change. Her community service leadership includes providing career-based advice and mentoring to unemployed individuals in Baltimore City through Maryland New Directions and serving on the National Advisory Council of MADE: In America, an organization founded to promote and support American industry and craft production.
An accomplished community actor, Stephanie also is a familiar face to Baltimore residents, having appeared in countless musical and dramatic theatre performances over the years—more than 60 or 70 in total, she estimates. Recently, with young children at home, she participated in her first "theatre job share" by splitting a role with an actor friend—proof that flexibility on the job really does work and is here to stay!
Stephanie holds a bachelor of arts degree in history and a minor in theatre production and performance from Lynchburg College.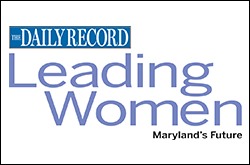 >> Read Stephanie's Profile here.
[/wpspoiler]
---

Meet Beth
Account Director
Email Beth
Connect with Beth on LinkedIn.
Clients will find Beth Ranzer to be both knowledgeable and passionate about building and fostering client relationships. In her more than 15 years of experience, Beth has held seats on both sides of the table. As a former marketing consultant, Beth uniquely understands the proactive, prompt solutions that companies require. And, as an experienced marketing leader, she also recognizes the special skills and talent businesses need to stay on the cutting edge and grow the business.
[wpspoiler name="Read More"]
Beth's marketing career started in Washington, D.C., where she served as a marketing coordinator for various nonprofit organizations. She proceeded to hold several positions within Sprint Nextel Corporation's marketing communications team, including serving as senior manager of NASCAR NEXTEL Cup Series (NNCS) Marketing and senior manager of sponsorship advertising. In these roles, Beth led many branding, advertising and marketing efforts for the company's national and local sports sponsorships.
As an independent marketing consultant, she advised companies seeking to enhance their branding, acquisition and retention efforts, including the Discovery Channel and Phillips Investment Resources. Prior to joining the TorchLight team, Beth served in the role of director at CMG Partners, a strategic marketing consultancy, where she helped many technology and telecommunications clients build and reshape their brand, marketing and communications strategies, including CLEAR, NII, Ellucian, Verisign and Blackboard.
Beth holds a Bachelor of Science in finance from Indiana University and a Master of Business Administration from Case Western Reserve University. She lives in Bethesda, Maryland, with her husband, son and daughter.
Maintaining the yin and yang of physical fitness, Beth is passionate about both running and yoga. When not kicking asphalt, practicing her warrior pose, or enjoying time with her children, you'll find Beth nurturing her creativity by pouring over interior design magazines, books and websites for inspiration. [/wpspoiler]
---

Meet Amy
Account Director
Email Amy
Connect with Amy on LinkedIn.
Amy Tsuchitani is able to connect with clients and candidates through their shared professional experiences. An accomplished marketer with 15 years of experience, Amy's "insider's" perspective of the marketing industry lends a unique, supporting element to the recruiting process.
[wpspoiler name="Read More"]Amy's career started as marketing coordinator for two of the biggest names in the sports marketing business: IMG (International Management Group) and Octagon Athlete Representation. Four years later, Amy became a regional marketing manager with Mercedes-Benz USA (MBUSA), where she managed the regional events and partnerships program and coordinated marketing efforts for 63 dealerships in the northeast region.
Following MBUSA, Amy joined The Atlantic Media Company as a senior marketing manager. There she had the opportunity to work on custom event and marketing programs for premier clients like Pfizer, Booz Allen Hamilton and more.
Amy holds a Bachelor of Business Administration in Marketing from James Madison University. She lives in Arlington, Va., with her husband and two children.
With her keen fashion sense, Amy thoroughly enjoys her unofficial role as fashion advisor to her friends. After many strategic hours in any store with a name ending in "basement," the closets of Amy's friends are transformed with all the latest trends, and the local Goodwill is graciously restocked.
[/wpspoiler]
---

Meet Katie
Account Manager
Email Katie
Connect with Katie on LinkedIn.
One of our newest team members, Katie Hart, brings a keen understanding of client business needs and challenges from her experience as a media sales account executive. She is skilled at bringing creative solutions to the table and effectively managing a diverse set of clients.
[wpspoiler name="Read More"]Katie started her career at Georgia IMG Sports Marketing where she worked on collegiate athletic sponsorships. While at IMG, she managed a wide variety of client initiatives like contests, field promotions, and hospitality events.
Katie then joined WJBF News Channel 6 in Augusta, Georgia and initially served as a marketing coordinator managing client-sponsored events. She later transitioned to station media sales, creating broadcast and digital solutions for clients. Katie is a true jack of all trades—in addition to WJBF sales, she did everything from broadcast negotiations for national clients like McDonald's to commercial production and even copywriting!
A graduate of the University of Georgia, Katie is a huge Dawgs fan and loves watching UGA football whenever she can. She and her husband recently moved to the D.C. area and are enjoying Beltway life so far. In her spare time, Katie is also a Pure Barre instructor and loves spending time with their six-year-old rescue dog Bailey.
[/wpspoiler]
---

Meet Autumn
Recruiting Manager
Email Autumn
Connect with Autumn on LinkedIn.
To say Autumn Conrad Schiff is passionate about the marketing industry would be an understatement. Every day, Autumn channels her enthusiasm and rich professional experience into creating successful, long-term matches for our clients.
[wpspoiler name="Read More"]Over the course of her 13 years in the communications industry, Autumn has worked for a variety of clients in the high-tech, nonprofit and professional services sectors, including Waggener Edstrom; global architecture and design firm Callison, Inc.; and RTKL Associates. Prior to joining the TorchLight team, Autumn was public relations manager of the American Society of Interior Designers, where she developed a national spokesperson program and helped launch and implement a national rebranding campaign.
Autumn completed her Bachelor of Science in communications at San Jose State University and graduate studies at George Mason University. She lives in Alexandria, Va., with her husband and baby daughter.
When not fantasizing about a full eight hours of uninterrupted sleep, Autumn enjoys getting out on the trails with her bike and engaging in her own form of anthropological crusade  by visiting the area's ample collection of historic homes, museums and gardens.
[/wpspoiler]
---

Meet Kathryn
Recruiting Manager
Email Kathryn
Connect with Kathryn on LinkedIn.
Armed with a master's degree in counseling, Kathryn Bailey has always loved listening to people—learning their challenges, their goals, what makes them tick. So it should come as no surprise that today, she uses these very skills as a counselor to job candidates, helping them live their best professional lives possible. This TorchLight recruiter wakes up every morning eager to make connections between the DC region's leading companies and the very best marketing talent.
[wpspoiler name="Read More"]After obtaining her degree from Providence College and working in sales for Xerox, Kathryn turned her focus to human resources, holding positions in the digital media and publishing industry with recognized brands such as Bloomberg BNA and Atlantic Media Group. Most recently she was Senior Talent Acquisition Specialist for the Society of Human Resource Management (SHRM).
Kathryn uniquely understands the many demands facing in-house recruiters today and aims to be a trusted partner to help them succeed in finding and hiring the region's most experienced marketing professionals.
If she wasn't working in recruiting, Kathryn would be a professional organizer, a skill she finds "fun" and "relaxing." For now, though, she spends her days picking up after her two small boys, corresponding with candidates—and helping DC's top companies "clean up" in the competition for top talent.
[/wpspoiler]
---

Meet Jen
Client Services Senior Manager
Email Jen
Connect with Jen on LinkedIn.
Jennifer ("Jen") Todd works closely with our clients and candidates to ensure all their needs are met. Her diverse background and attention to detail allow Jen to easily step in and provide both clients and candidates with outstanding customer service.
[wpspoiler name="Read More"]After four years in accounting and finance, Jen was recruited into the role of staffing manager for Robert Half International. As the wife of a naval officer, Jen has traveled extensively — an experience that taught her cultural sensitivity skills, which enable her to connect with clients and candidates from diverse backgrounds and heritages.
While living in Germany, Jen developed and taught a business language course for German corporate executives and managers through inlingua, the international language school. Prior to joining TorchLight, Jen worked with Heidi at McKinley Marketing Partners as a marketing recruiter.
Jen holds a Bachelor of Science in Public Administration, with a concentration in Accounting and Finance, from Austin Peay State University. She lives in Alexandria, Va., with her husband and two sons.
Being the history lover that she is, the D.C. metro area has been a virtual treasure trove for Jen. When not wandering cobblestone streets or walking the steps of pristine memorials, Jen spends her time boating on the Potomac and cheering on the professional sports teams of Washington, D.C.
[/wpspoiler]
---

Meet Sammy
Marketing, Client Services Project Manager
Email Sammy
Connect with Sammy on LinkedIn.
After a stint at a Washington, D.C. strategic communications agency, where she was responsible for client relations and for recruiting and managing the firm's internship program, Samantha ("Sammy") Nguyen knows hiring from both sides.
Today she puts these skills to work as our Marketing, Client Services Project Manager to ensure that TorchLight clients and candidates have a positive, successful recruiting experience.
[wpspoiler name="Read More"]A key that sets her apart: she is good at asking questions.
It's a skill she honed as a journalism student at St. Bonaventure University, where she interviewed subjects and produced weekly news stories for the student-run TV news network. And it's a skill she puts to work today at TorchLight, as she interviews job seekers to produce the right talent for our clients.
Sammy, a native of the Rochester, New York, area, joins TorchLight after three years at Subject Matter, a communications, advertising and government relations agency. During her tenure, she served as office manager, worked closely with clients to ensure an excellent experience, and oversaw the firm's internship program.
Having been on both sides of the interview table, she understands that making a quality match is more than just aligning skills—it's also finding the right "fit."
Her advice for job seekers: Be patient and know that if one opportunity doesn't materialize, a better one is just around the corner.
And her recommendation to hiring managers: Be open to someone with different experiences and look for candidates who are eager to learn. Sometimes the best candidates are not necessarily the ones who look best on paper.
When she's not reading resumes or interviewing candidates, you'll find Sammy deep in a good book (she counts her mother's newly published novel among her recent favorites), learning a new language (she's fluent in English, Spanish and French and is currently learning Vietnamese and Italian) or hitting the golf course. Sammy also is a prolific cook—with a specialty in Asian cuisine, she aspires to be the next contestant on "Master Chef."
Whether reading recipes or reading resumes, there's no doubt Sammy has a knack for asking the right questions to ensure a winning result.
[/wpspoiler]
---

Meet Susan
Operations Manager
Email Susan
Connect with Susan on LinkedIn.
No matter how you calculate it, when it comes to serving TorchLight's clients, Susan Mullin is key to the equation.
This former actuarial consultant—once spending her professional days crunching numbers for large corporations and nonprofits—is not only a maven of math and savvy with spreadsheets; she's also an adept administrator. Today she puts these impeccable skills to work to benefit both clients and TorchLight's team of recruiters in her dual roles as client services coordinator and company bookkeeper.
[wpspoiler name="Read More"]Susan started her career in the actuarial practice of Towers Watson – Boston, formerly Towers Perrin, designing and valuing retirement plan alternatives for large companies and non-profits. She then went on to serve as consultant in the Arlington office of Towers Watson, where she primarily focused on defined benefit pension plan administration. After leaving Towers Watson, Susan served as director of compensation and benefits at Atlantic Media Company. More recently, she worked alongside her husband, running the finance and human resource functions of their bathroom remodeling business.
Susan holds a Bachelor of Arts in mathematics from Colgate University. She lives in Silver Spring, Md., with her husband and young son.
With a toddler to keep up with, "spare time" is a luxury in Susan's world. However, that doesn't stop her from dreaming of foreign travel — a passion that was ignited in college when she taught English abroad for two years in Japan and in the former Czechoslovakia. Having grown up in a small town in upstate New York, the experience "opened her eyes to the world" and left Susan with a true passion for travel and learning about other cultures.
Though one day again she'll be consumed by flight and passport numbers, Susan's days for now are filled with phone numbers and invoice numbers—whether helping schedule client interviews or keeping TorchLight's accounting running smoothly.
And that's expertise we all can count on!
[/wpspoiler]