TorchLight connects the area's leading businesses with D.C. marketing consultants
Hiring managers searching for experienced D.C. marketing consultants turn to TorchLight for marketing and communications search and staffing
Finding a qualified and highly skilled marketing consultant in Washington, D.C. is no easy task—you need someone to connect you to savvy professionals with the unique skills and experience to carry your next project forward. That is where TorchLight comes in.
At TorchLight, our team of recruiters is dedicated to finding the best of the best—the best marketing and communications professionals in the Washington, D.C. metro area. Then, we connect this top talent with our clients looking to fill a contract, contract-to-hire or permanent role. Let us match you with a D.C. marketing consultant that not only meets your needs but also fits your organization's culture.
Are you a marketing consultant, looking for that next amazing opportunity? Let TorchLight help with your search.
We spend a great deal of time getting to know each employer and candidate. As a TorchLight candidate, you'll be professionally represented by a member of our team who is well-versed in your skill set, experience and personality to guarantee a good match. We are proud to showcase TorchLight has a 97% success rate placing professionals with clients doing business in the D.C. area.
Let TorchLight help you find the marketing consultant opportunity you've been searching for. Upload your resume to our database so when something matches your skills we can contact you. Or, search for an open position. Positions are always being added so check back often.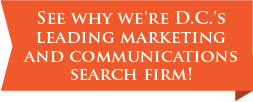 Learn why TorchLight is the one of the best recruiters for D.C. marketing consultants. Contact us today! &