TorchLight places quality candidates in freelance marketing jobs in D.C.
Give your team a helping hand—Let TorchLight connect you with professionals seeking freelance marketing jobs in D.C.
Do you have an opportunity for a freelance marketing professional in D.C. but are unsure where to find a quality candidate? TorchLight can connect you to some of Washington, D.C.'s top talent.
It's happened to every growing company. There are too many projects for your current marketing team to successfully manage. And, as marketing and social media continues to evolve, your team may not have the skill set to tackle a particular task. Now may not be the best time for your company to hire a permanent employee, but you know your marketing department needs a helping hand. Look to TorchLight.
TorchLight has connections to skilled professionals looking for freelance marketing jobs in D.C. They are eager to jump in and get the job done. Your marketing team will benefit from temporary "staffing up" and your organization can wait until the time is right to hire a permanent employee.
Hiring managers: Let TorchLight match you with marketing professionals looking for temporary, short-term assignments. Contact TorchLight's experienced recruiters for help finding freelance marketing pros for your jobs in D.C.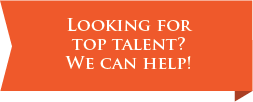 Learn more about why TorchLight is the one of the best resources to help companies find talented professionals seeking freelance marketing jobs in D.C. &