Desperately searching for lead gen contactors in D.C.?
The talent is out there! TorchLight, a leading recruiting and staffing firm in Washington, D.C., can help your company find highly skilled marketing and communications professionals
If you're constantly searching for new and innovative ways to reach customers and prospective clients, your D.C. business could greatly benefit from hiring a lead gen contractor. In marketing, lead generation professionals work to stimulate interest in a product or service with the intent to buile a sales pipeline. In today's business climate, as you are forced to do more with less, it's to your advantage to hire a lead gen contractor on a project or as-needed basis to help you jump-start your sales efforts and achieve your business goals. TorchLight has connections to these highly skilled sales and marketing contractors in the DMV region.
Need to make a connection quickly? No problem! At TorchLight, we've developed an impressive network of marketing and communications professionals—including lead gen consultants and so much more—who are actively or casually looking for their next contract, contract-for-hire or permanent position. We take the time to get to know our clients' needs and match them with quality candidates that have the expertise they are looking for—and with contractors who have time in their schedule to lend a helping hand. Find out more!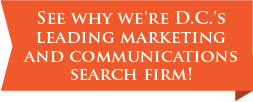 D.C. lead gen experts, your next opportunity is waiting. Some of the region's leading businesses are eager to hire local marketing contractors for immediate, short-term projects. Join our network by uploading your resume to our database. When a position matches your skills, we'll be in touch. &