Torchlight's Director of Enterprise Business Development recognized by The Daily Record for exemplary professional experience, community involvement and commitment to inspiring change
ALEXANDRIA, Va. (December 5, 2017)— TorchLight Hire's Stephanie Ranno, Director of Enterprise Business Development, has been honored as one of Maryland's Leading Women of 2017 by The Daily Record of Baltimore. The award recognizes Maryland women age 40 and younger for exemplary professional experience, community involvement and a commitment to inspiring change.
Ranno was recognized at a special ceremony at the Westin in Annapolis on Monday,
December 4.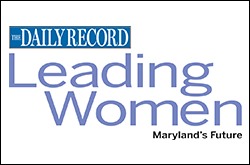 "This year's Leading Women honorees are making outstanding contributions to their fields. They are active in their communities and are committed to inspiring change," said Suzanne Fischer-Huettner, publisher of The Daily Record. "They are Maryland's next generation of women leaders, and The Daily Record is honored to recognize their achievements."
>> Read Stephanie's profile here
Ranno is an accomplished veteran of the recruiting industry, having worked for several Baltimore-area recruiting and staffing firms before joining TorchLight earlier this fall to focus on expanding the Alexandria-based marketing recruiting firm's serve to Fortune 1,000 enterprise corporations in the greater Washington, D.C. area.
This busy wife and mother of three is also a dedicated volunteer whose current leadership roles include providing career-based advice and mentoring to unemployed individuals in Baltimore City through Maryland New Directions; serving on the National Advisory Council of MADE: In America, an organization founded to promote and support American industry and craft production; and volunteering in ministry programs at her church.
Ranno, who earned degrees in history and theatre from Lynchburg College, also is an accomplished community actor, having appeared in dozens of musical and dramatic theatre performances over the years.
About TorchLight
TorchLight, founded in 2012 and headquartered in Alexandria, Virginia, is the Washington, D.C. region's premier search and staffing firm serving the marketing, communications, PR and digital sector. Recognized among the Inc. 5000's list of America's fastest-growing private companies of 2016 and 2017, and recently named one of Washington, D.C.'s "Best Places to Work" by the Washington Business Journal, TorchLight is the trusted partner to help commercial and nonprofit organizations of all sizes find and place experienced marketing, communications, digital marketing and public relations professionals in permanent, contract and contract-to-permanent positions. Learn more at www.torchlighthire.com.