TorchLight, a top marketing and communications search and staffing firm, named one of Washington, D.C.'s Best Places to Work
Alexandria-based TorchLight recognized for workplace flexibility, company culture and exponential growth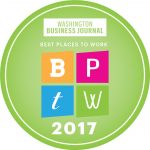 As a leading marketing and communications search and staffing firm in D.C., TorchLight celebrates its most recent accolade—being named among the region's 2017 Best Places to Work. The Washington Business Journal released the list today, honoring TorchLight along with some of Washington, D.C.'s most impressive businesses.
While TorchLight is known for recruiting and placing the best marketing and communications candidates in client company's most important jobs, they've also developed a workplace to be proud of. The firm was recognized for its:
Flexibility and a commitment to supporting women
Culture of collaboration
Commitment to the community
Growth trajectory
TorchLight President and CEO Heidi Parsont has instilled these values within the organization and encourages clients to do the same—to establish a culture to help attract and retain top marketing and communications professionals.
TorchLight is a trusted partner to influential companies throughout the D.C. metro area searching for highly-qualified candidates to fill their full-time, part-time, contract and consulting positions. Visit our job board, upload your resume, and contact us today to learn more!