Are you looking for a trusted recruiter for marketing jobs in D.C.?
At TorchLight, we match professionals seeking marketing or communications jobs with D.C.'s most desirable companies
Hiring managers, discover how we can help fill your open marketing or communications jobs in D.C. Contact TorchLight today for a no-obligation assessment of your hiring needs and see how we work to deliver results.
Marketing professionals, as a job seeker you want the next position you land to be a positive step forward in advancing your career. That's why you should rely on TorchLight, one of the most experienced recruiters of marketing jobs in D.C.
See for yourself why Torchlight is Washington, D.C.'s leading marketing and communications recruiters. Check out our current list of open marketing and communications positions. Remember to upload your resume. When an opportunity matches your skills and qualifications we'll contact you to let you know.
Learn more about what makes TorchLight the fastest-growing marketing and communications recruiters in Washington, D.C., Northern Virginia and Maryland.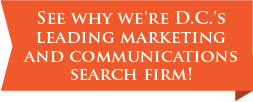 &