Unemployment is at a 7 Year Low – Get Ready for the Top Talent Challenge
Competition is heating up in the war for top talent this spring, but these three common hiring mistakes may be preventing you from getting the employees you really want.
Whether you're a spectator on the sidelines or a competitive athlete yourself, you are likely in the throes of spring sports.
But here in the D.C. region, this season's hottest competition isn't one you'll find on the outdoor playing fields. Businesses large and small across the D.C. area also are in competition to attract and hire top marketing and communications talent.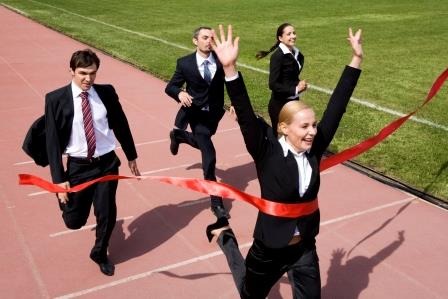 Hiring is heating up. Companies are becoming more assertive in their quest to hire the very best talent. If your business isn't following suit, you could be missing out to the competition, especially if you are making any of these three common hiring mistakes:
Your company still thinks its 2008 when it comes to hiring.
It wasn't that long ago that we were immersed in a recession. Who could forget those intense days of layoffs, cutbacks, closures and general freezes on capital expenses?
At the time—and even for several years to follow—companies that were lucky enough to still be in a position to hire could be extremely selective. After all, the job candidate pool was saturated with top-quality professionals seeking employment, and fast. Companies had their pick of the cream of the crop.
Those days are past now. Companies are growing and hiring again. Unemployment rates in all sectors are improving. Businesses are freeing up capital and spending again.
And most quality professionals are gainfully employed and not necessarily "looking."
Yet many companies are still living in the past, mistakenly thinking they can make modest salary offers; hold out for the candidate that checks every single box; or offer few benefits and expect the candidate to jump into their arms.
To win top talent today, you need to be realistic about the candidates you're going to attract; competitive in your salary offer; and open-minded to candidates that may not fit your "ideal" profile but can be great employees nonetheless. And, you need to be ready to act fast when the right candidate comes along.
2. You fail to consider your company culture, which is every bit as important as salary, benefits and professional opportunities.
Hiring managers frequently spend a lot of time evaluating salary and benefits options to make attractive offers to candidates. But, that's only part of the equation. Today's job seekers are discerning, and they also want to work for a company with a strong workplace culture and values that align with theirs.
Take a good, hard look at what features, characteristics, culture and opportunities make your workplace different from the rest and make people want to come work for you.
Perhaps you offer employees the opportunity to set their own work schedules, work from home or earn sabbatical time off to pursue a special interest. Maybe you provide time for employees to volunteer or participate in community service efforts for the organizations they care about most or invest in extensive professional development and training.
Whatever you do that's special is your secret weapon in staying competitive.
And if you aren't doing any of these things? Watch out you don't fall behind in the war for talent. Your competitors are constantly looking for new and innovative ways to add value to the company culture and the employee experience—and job candidates are noticing and responding.
3. You aren't being proactive about developing a hiring strategy—not just for right now but for the future.
Today's most successful employers plan for staffing needs well before circumstances dictate.
Rather than wait until a key employee gives notice or announces a months-long maternity leave, smart employers are planning for all possible scenarios now. This likely includes determining the skills and qualifications they'd need in hiring a replacement. And, it also includes creating a strategy to bring on short-term contract professionals to help cover short-term absences or ramp up for projects with specific start and end dates.
Are you prepared to act quickly to cover long-term and short-term staffing gaps? If not, you should be.
Whether your company is guilty of one of these common mistakes—or all three—the good news is that it's never too late to turn your strategy around and position your company for hiring success in this increasingly competitive marketplace.
TorchLight is here to help you put together a winning hiring strategy—whether you're planning for the future or have an immediate need right now.
TorchLight's experienced recruiters can coach you on strategies to stay one step ahead of the competition and hire the best talent to accomplish your company's goals. Contact us today and let us help you find, recruit and retain the right marketing and communications professionals to take your business to the next level.